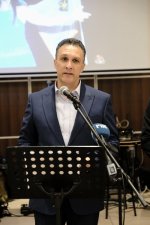 It is with great pleasure that I attend today the annual ball organized by the Pancyprian Artillery Reserves Association.
I wish first of all to express my thanks to my friend George Koftero, President of the Association, and the members of the Association for the very honorable invitation to be here with you today.
Tonight's event highlights in practice the collective effort you are making to strengthen social ties, which in difficult times, and over time, act as a safety net against anything that threatens to erode our moral and national values and social cohesion.
It also highlights the excellent relationship of solidarity, support and mutual support maintained by the members of your Association and at the same time reminds us of our responsibilities and obligations towards our divided homeland
It reminds us of the principles and values that guided all those who fought and even offered their lives in service to the National Guard and our homeland.
Ladies and Gentlemen,
At a time of significant and complex international developments, as we must, we remain steadfastly committed to defending the fundamental principles of freedom and democracy.
Our goal is for our fellow citizens to feel absolute safety and security, with the National Guard being a reliable and powerful deterrent against any foreign aggression.
We recognize that the achievement of our objectives in matters of defence and security of the country can only be achieved through universal understanding, absolute unanimity and unanimity and, above all, unbreakable unity among all social and political forces.
In the effort to armour our island no one is left out.
This is exactly what the Artillery Reservists, but also the reservists of the other Arms and Corps, through their Associations, have been proving for decades. They remain close to the National Guard, supporting with vigour and determination the leadership of the troops and by extension the Cypriot state.
As Minister of Defence, I assure you that all the efforts made over the years by our Reserve to maintain, improve and enhance the National Guard's morale and operational capability are duly recognised and appreciated.
Your experience, knowledge and most importantly your genuine interest and love for the troops and our country are truly valuable.
I therefore invite you to continue this commendable effort, with the best possible outcome for our country and our people.
Above all and above all is our Cyprus.
Expressing the thanks of the Cypriot state to each of you individually for your selfless contribution to our semi-inherited homeland, I wish you all health and every success in the multifaceted work and actions you undertake for the benefit of our homeland.
Thank you.
(MB)
Contents of this article including associated images are owned by PIO
Views & opinions expressed are those of the author and/or PIO
Source
[/P]