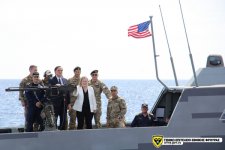 TAMS "PROTEAS - 1/ 2023": Co-training of the National Guard and the Armed Forces of the United States of America, with the participation of the Greek Armed Forces, on Special Operations Objects
From 20 February to 17 March 2023, the Naval Command (NOC) of the National Guard and the Armed Forces (AF) of the United States of America (USA) co-organized the Tactical Post-Troop Exercise (TAMS) "PROTEAS - 1/23", which involved the planning and execution of special operations.
The TAMS was conducted at training and firing ranges in both the land and sea areas of the Republic of Cyprus and was attended by personnel and assets of the Naval Submarine Warfare Command's Submarine Warfare Unit and respective sections of the US Navy.
The TAMS scenario included, among other things, various types of individual and group weapon firing on board high-speed vessels, training in the fight against inhabited areas, in tactical communications and data exchange, training in the procedures for exiting to an enemy coast using high-speed vessels, engaging underwater and land targets and protecting critical infrastructure. From February 27 to March 10, Special Operations Groups of the Greek Armed Forces also participated in the co-training.
A phase of the co-training was attended by the Chief of the National Guard, Lieutenant General Demokritos Zervakis, the US Ambassador to Cyprus Ms. Julie Fisher and the Ambassador of the Hellenic Republic Mr. Ioannis Papameletiou. The Chief congratulated the Special Operations Groups, as well as the crews of the speedboats for their efforts, noting the importance of cooperation between the three countries in the field of defense and security in the wider Eastern Mediterranean region.
During the visit, the Chief of the National Guard and the US Ambassador noted the great importance of conducting joint trainings, both for increasing the level of encounter and interoperability between the two countries' armed forces, as well as for the security and stability in the region in general.
The co-training, which is part of the wide network of international cooperation developed by the National Guard under the directions of the Ministry of Defence, is considered to be particularly beneficial, as it enables the personnel of the National Defence Forces to improve the security and stability of the region, as well as to enhance the security and stability of the region, to be co-trained with corresponding units of the US and Greece, thus promoting the level of training, interoperability and common understanding in relation to the regular use of Special Operations Teams in the execution of specialized scenarios in a multinational context.
(MB)
Contents of this article including associated images are owned by PIO
Views & opinions expressed are those of the author and/or PIO
Source
[/URL][/P]