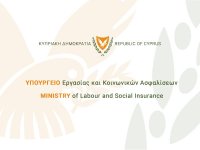 The Minister of Labour and Social Insurance, Mr.Yiannis Panagiotou, will chair a meeting of the Labour Advisory Body on Monday, 26 May 2023, at the Ministry of Labour.
The topics to be discussed at the meeting of the Body will be the new bill on teleworking, amendments to the legal framework on working hours, and private employment agencies.
The conditions of entry and residence of third country nationals, the functioning of the Tripartite Monitoring Committee for the Implementation of the Strategy for the Employment of Third Country Nationals in Cyprus, the strengthening of the capacities to carry out inspections in cooperation with the social partners in order to better implement the legislative framework on labour issues, and the reconciliation of professional and personal life for workers with many children will also be discussed.

Contents of this article including associated images are owned by PIO
Views & opinions expressed are those of the author and/or PIO
Source
[/P]