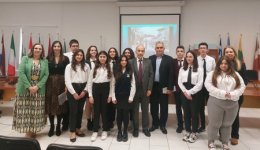 The Directorate of Secondary General Education of the Ministry of Education, Sports and Youth (MESY) organized today, March 21, 2023, an event in which the prizes were awarded to the students who excelled in the 11th Creative Writing Competition (2022-2023): "Nikos Kavvadias (1910-1975)". The Competition is dedicated to the memory of the modern Greek writer Mimis Souliotis.
The event took place in the Hall of Events of the Ministry of Education, Sports and Youth. The programme included a greeting by the Director of Secondary General Education Dr. Kyprianos D. Louis and a tribute to the life and work of Nikos Kavvadias. Afterwards, the award citations were read and the prizes were awarded to the distinguished students. The awards were presented by the Director of Secondary General Education. The event concluded with the reading of the award-winning poems.
The Creative Writing Competition 2022-2023, which was addressed to students of public and private schools of Secondary General and Secondary Technical, Vocational Education and Training, received 72 entries (Secondary Cycle category: 37 and Secondary Cycle category: 35). Twelve students were awarded in the Competition, as follows:[/B] Pambou Evangelos, B2, "Peace and Freedom" High School of Deryneia-Sotiras, Famagusta
2nd Prize: Louca Maria, C2, Nicosia-Malounta Secondary School, Nicosia
3rd Prize: Tsoukkas Pavlos, 2B, Xenion High School, Famagusta
Commendations:
Miltiadou Georgios, A5, Agios Stylianos High School, Nicosia
Psareli Maria, B4, Archangelos Lakatameia High School, Nicosia
Ignatidou Maria, C2, Private Greek School Forum, Nicosia
HIGH SCHOOL CATEGORY
1st Prize: Marilou Schini, 4A, Pascal English School, Limassol
2nd Prize: Petrou Evdokia, C31, Kokkinochoria Fotis Pitta Lyceum, Famagusta
3rd Prize: Papadopoulou Andrea, C11, Kykkos A' Lyceum, Nicosia
Commendations:
Bintziou Efrosini, B11, Livadia Regional Lyceum, Larnaca
Charalambous Christiana, C32, Ethnomartyr Kyprianou Strovolos Lyceum, Nicosia
Vasiliou Maria, B31, Vergina Lyceum, Larnaca.
(IP/SX)

Contents of this article including associated images are belongs to PIO
Views & opinions expressed are those of the author and/or PIO
Source