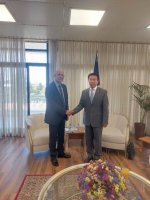 The Minister of Finance Mr Makis Keravnos had today, 26 May 2023, a formal meeting at the Ministry of Finance with the Ambassador of China to Cyprus Mr Yantao Liu. During the meeting, they exchanged views on economic and trade relations between the two countries and ways to further strengthen them.
The Chinese Ambassador stressed the importance attached to economic relations with all member states of the European Union, including Cyprus. He underlined that the long-standing excellent bilateral relations and the important geographical position of our country are an important factor for further cooperation. He thanked the Minister for Cyprus' participation in the "Silk Road", highlighting the importance of this initiative for international trade and economic relations. At the same time, he expressed confidence that Cyprus-China relations could be expanded in areas such as Green and Digital Transition, Tourism and Innovation.
For his part, the Minister of Finance, after giving a brief presentation on the state of the Cypriot economy and the Government's objectives, underlined the importance attached to the strengthening of economic ties between the two countries. He pointed out that further deepening of economic and trade relations between the two countries would be beneficial to all, noting that the same applies to EU-China relations. Particular reference was made to the opportunities presented especially in the areas of trade, tourism and services. Mr. Thunder and Mr. Liu agreed that communication and coordination will continue.
/SX
Contents of this article including associated images are owned by PIO
Views & opinions expressed are those of the author and/or PIO
Source
[/URL][/P]