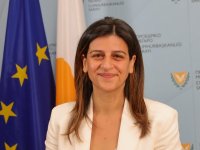 The Commissioner for Gender Equality, Ms.Josie Christodoulou, met today, 21 March 2023, with the Deputy Minister of Social Welfare, Ms.Marilena Evangelou. The meeting was also attended by the Director of the Office of the Deputy Minister Ms. Giozi Ftanou and the Officer of the Commissioner's Office Ms. Andri Savva.
The aim of the meeting was to strengthen cooperation between the Commissioner's Office and the Deputy Ministry on issues related to gender mainstreaming in the policies of the Deputy Ministry.
During the meeting, issues related to preventing and combating violence against women were discussed, as well as the implementation of actions related to the creation of care facilities for the elderly, children and people with disabilities.
In addition, among other things, there was a productive exchange of views in relation to the reconciliation of work and family life.
(SX)
Contents of this article including associated images are owned by PIO
Views & opinions expressed are those of the author and/or PIO
Source
[/P]
Source
[/P]